Skipper
Roberto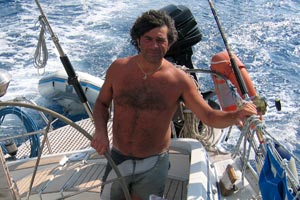 Roberto Linguerri born in Faenza on 03.06.1960
Profile
Roberto Linguerri born in Faenza on 03/06/1960.
Since 1983 he sailed in the Mediterranean, with sailboats and motorboats, areas of the Adriatic, Ionian and Tyrrhenian covering about 120,000 nautical miles; in 1995, on boat mt. 16 sailing, I did my first Atlantic crossing from Martinique to the Azores islands, passing through Domenica, Guadeloupe and Antigua.
Since 1987 owner of pleasure boats: and from 2007 to today are together with Romina owner of our small fleet of boats to hire professional.
I sail mostly between Croatia, Greece and the Caribbean.
Participate to National races like the Barcolana and the winter championship in Marina di Ravenna, Pesaro, Rovinj, Brindisi, Corfu.
From 1989 to 1994 he worked as an assistant diving instructor, with the company Imola Sub.
Boat license since 1983 for sailing yachts and motor yachts without limits, master's degree from the Port of Ravenna.
Title of expert sailing, obtained in Marina di Ravenna at the Italian Naval League 25/10/09.
Instructor Teacher Nautical License
Qualification for administration of craft used as charter, obtained at the Port of Ravenna.
Entered in the register of Seafarers of 1st category at the Port of Ravenna.
Certificate accompanying diver and A.R.O.
Denis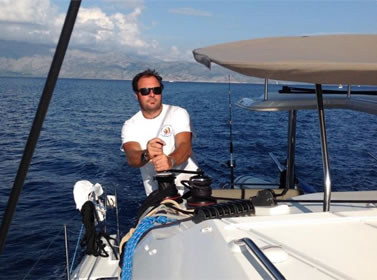 Denis Zaccaria born in Susa on 09.08.1974
Profile
Born in the mountains before I started to slide and then to walk, my life has always been an immersion in the sport. With a past as a skier agonist I have been projected to the sea thanks to the activity of water skiing I've done like a summer training before the lakes and then to the sea. The love for this new element has not been slow to arrive and then the desire to explore new scenarios. Taking its first steps as an instructor in nautical centers have come to know and respect the sea. I became a dive guide, but the wind and the waves were my true destiny.
I worked on boats of all types of small laser 16 and hobbicat 14 and 16, up to the most prestigious motor yacht. The passion for salt pushed me to relocate the first in Sardinia and then in Greece where now work on board sailboats and catamarans fast and comfortable. I sailed around the Mediterranean with a fascinating parenthesis oceanic navigation that made me discover the Atlantic and his passages more insidious like the Bay of Biscay, Cabo Finisterre and the famous gates of Hercules.
Boat license sailing / motor without limits Basic trainer Radar harp Gmdss goc-roc student navigation officer pleasure
Max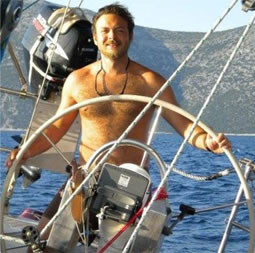 Massimiliano Gobbi born in Reggio Emilia on 02.10.1973
Profile
I experience Monohulls and Catamarans Sailing / Power, boats Shipowning
Private or Company Charter and Transfers - Mediterranean Ocean and even in small crew, knowledge systems and equipment on board.
I sailed in the Atlantic Ocean Arecjfe - Venezuela in 2014 and the Indian Thailand - South Afrique 2015-2016.
Several transfers in the Mediterranean, the Ionian Greece in Ravenna.
Experiences of Charter:
Croatia / Slovenia, Balearic Islands, Elba-Corsica-Sardinia, Tuscan Archipelago, Ionian Greece.
Member Seafarers 1st cat. No. 6799 Cap. Ravenna
Yachtmaster Off. + Commercial Endorsement, courses -STCW'95, ENG 1 (biennial)
License units Pleasure Sail and Power without limits from Costa obtained in Como-Ravenna
GMDSS-GOC-LRC-SRC-General Operator Certificate- Min.Sv.Ec.Roma
Enabled VHF Amateur Radio pat.Internaz.
Apnea Freediving-Fishing Apnea
Underwater activities from 1992 CMAS / FIAS
Course Meteorology Navimeteo, G.Meggiorin- Chiavari
Navigation Astronomical CPT LC Roberto Ferrari
Ido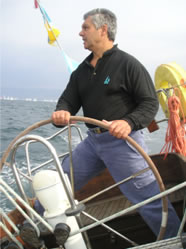 Rea Ido Franco born in Arpino (Fr) on 9/18/1952
Profile
Nautical License Sail and Motor without limits from the coast pleasure boat from 1984 Conductor for pleasure boats used as charter from 2002 race officer Zonal IVF expert sailor Italian Naval League from 2010 Instructor Teacher Nautical License Sporting Director affiliated company IVF 1997-2006 Director sailing School of affiliated company IVF 1999-2006 Knowledge celestial navigation Knowledge and use of integrated systems MY
Professional experiences
Owner of Comet 770 Sailing Owner of Sciarelli 41 Boarded sailing for 30 months with MY Carnevali 130 and then Carnevali160 Collaboration with asset recovery agency. Knowledge of Italian ports, Croatian ports, ports of Montenegro, Greek ports. Navigation command for about 200,000 Nm Constant participation in sailing regattas in the Adriatic. Since 2008 nautical school teacher at the premises avelecazzate Imola and Forli.